Representative CRAIG HALL
Utah State House of Representatives - District 33
News
Tuesday, November 22, 2016 9:10 PM
Election update! - Salt Lake County received an enormous amount of ballots right at the deadline this year. Accordingly, it has taken a while for the election results to become final. I'm happy, honored and humbled to report that WE WON!

Thank you so much to the voters of District 33 for trusting me with another two years as your state representative! It is truly a humbling experience to represent my neighbors in the state legislature, and I am looking forward to doing it again. I am so grateful to my constituents who have recognized my efforts to truly represent and fight for all West Valley residents at the state capitol.

There have been literally dozens and dozens of volunteers, supporters and helpers throughout our campaign. Campaigning is tough work, and there is simply no way we could do it without all your help.

Thanks also to my family for their patience and never-ending support during the campaign. It has been fun to have our kids be part of our campaign. My wife has simply been amazing during this process. Although I am now knee-deep in her lengthy post-campaign "honey-do" list, I greatly appreciate everything she does for our family.

Again, thank you for trust and confidence. I greatly appreciate your support!

Rep. Craig Hall

p.s. We are doing our best to quickly remove all the "Craig Hall" signs around the District. Thanks to those of you who have helped in this regard! If you know of a sign that still needs to removed, please let me know the location. Or you can drop it off at my house at 3428 Harrisonwood Drive, West Valley. Thank you!!
---
Monday, November 14, 2016 2:38 PM
Still winning!
The results of our election (and others) have been delayed. Our campaign has been in the lead since the initial results, and the latest results saw our lead increase. So we're feeling optimistic the numbers will continue to favor our campaign. It is possible we won't know the "final" results until Tuesday, November 22. But thank you for your patience and support! More updates will be reported next week. Stay tuned!
---
Thursday, November 3, 2016 9:52 AM
As you all know, Tuesday, November 8 is Election Day. As we enter into the last few days of the campaign, I just want to express how grateful I am to have met so many of you. Our campaign has literally knocked on thousands of doors, getting to know you better, and learning what issues are most important to you. Doing this has simply made me a better Representative. Thank you so much for your support. I greatly appreciate it.

Just a few reminders. There is only ONE poll location in District 33 on Election Day. That is at West Valley City Hall. Accordingly, they are predicting LONG lines on Election Day. Avoid them by mailing in your ballot. OR, you can drop off your signed ballot in the secure drop box behind West Valley City Hall.
If mailing, your ballot must be postmarked by Nov. 7, the day before Election Day. You can drop off the ballot in the drop box until 8:00 pm on Election Day.
I Would Greatly Appreciate Your Vote!
It has truly been an honor representing you at the State Capitol. I have lived in West Valley for 29 years, and since first being elected in 2012, I have proven to be a "get things done" representative for West Valley. I will remain a strong voice for those who live, work and send their children to schools on the West Side. Some of my accomplishments include:
Effective! - Recognized as one of Utah's "most effective" legislators.
Sponsored and passed the most significant piece of legislation in several years dealing with campaign finance / ethics in Utah.
Passed bills protecting and helping victims of sexual abuse.
Sponsored legislation fighting for West Side schools.
Passed several bills guaranteeing greater fairness in Utah's election process.
Actively seek input from West Valley teachers and principals to determine their needs.
Recognized by the Salt Lake Tribune as a "refreshing" . . . "example of bipartisanship" and as a legislator whose "top issue" is education.
Sponsored and passed bills making our State government more transparent and accessible.
Accessible! - I have held over a dozen town-hall meetings, sent out dozens of e-mail newsletters, mailed surveys to my constituents before each legislative session, I actually answer my phone and return calls, have knocked hundreds of doors in District 33 getting to know my constituents better, etc., etc.!
And more!
Thanks again for all your support. Feel free to contact me regarding any issue.
And VOTE CRAIG HALL!
---
Wednesday, November 2, 2016 8:30 PM
---
Monday, October 31, 2016 10:58 AM
Several folks have asked me about the options we have this year for voting. So I thought I'd set forth all of the options. Here's a quick graphic that explains it succinctly:




There are three ways to vote:

1 - Return your ballot in the mail. Needs to be completed and SIGNED. Deadline: Must be postmarked by November 7, which is the day BEFORE Election Day.

2 - Drop off your completed ballot - There are various secure ballot drop off locations throughout the County. The closest ballot drop off location to District 33 is at the back of West Valley City Hall. Available 24/7. Also, ballot must be SIGNED! Deadline: Must be in the box by 8:00 p.m. on Election Day.

3 - Vote in person - Here, there are two options. You can vote early at West Valley City Hall on Oct. 26-28 and Nov. 2-3 from 3:00 p.m. - 7:00 p.m. and Nov. 4 from 3:00 p.m. - 5:00 p.m.

Election Day voting takes place on November 8th from 7:00 a.m. - 8:00 p.m. Again, the closest location is West Valley City Hall.

The Election Office tells me that if you vote in person, it is best (although not mandatory) to bring your already-received ballot with you to exchange it for an electronic ballot.

Things to remember:

1 - The place where you have historically voted will possibly be CLOSED! - Because this is primarily a vote by mail election, the County made the decision to close most poll locations. The only in-person poll location in District 33 is West Valley City Hall!

2 - Because there is only ONE poll location in District 33, the lines on Election Day are likely to be LONG!

Recommendation:

DON'T WAIT UNTIL LATE ON ELECTION DAY TO VOTE! Lines are likely to be very long, especially after normal work hours on Election Day.

Questions?

If you have any questions about the election process (or haven't receive your ballot), contact the County Election Office. Their website is here. Their phone number is 385-GOT-VOTE (385-468-8683). There is also a great FAQ website regarding voter registration and voting here. You can also call me at 801-573-1774 (cell).
---
Tuesday, October 25, 2016 7:58 PM
Who do working families support for Dist. 33?
Of the two candidates in this race, ALL of these organizations (and more!) formally endorse Rep. Craig Hall!
So proud to stand strong with working families throughout the state and West Valley. Thank you for your support!
---
Saturday, October 22, 2016 11:24 PM
As the ONLY candidate in this race formally endorsed by the state-wide and Granite School District teacher organizations, I was invited to meet with the teachers at the Utah Education Association Convention on Friday. Thanks teachers for all you do and for your support!
---
Monday, October 17, 2016 10:36 AM
**EVERY VOTER WILL RECEIVE THEIR BALLOT IN THE MAIL!**

Salt Lake County officials decided to conduct this election primarily through the mail. Accordingly, EVERY VOTER WILL RECEIVE THEIR BALLOT IN THE MAIL (whether you asked for it or not). This is what ballots look like. Don't throw it away. It is your official ballot.






The easiest way to vote is to just return the ballot by mail (no postage necessary). If your ballot is mailed, it needs to be postmarked by Nov. 7 (day before the Nov. 8 Election Day). Make sure to sign your ballot in the designated spot before returning it.

Other options, including early voting, dropping off your ballot to a secure drop box location, or Election Day voting can also be found at the Salt Lake County Elections Office website:
https://slco.org/clerk/elections/current-election-information/
If you don't receive your ballot in the mail by the end of this week, call the Salt Lake County Elections office at 385-GOT-VOTE (385-468-8683).
---
Tuesday, October 11, 2016 9:53 AM
Ribbon cutting at West Lake STEM last week! So great to see and visit with so many friends and neighbors. The changes underway at West Lake are phenomenal. It is, and will continue to be, a wonderful community resource. Thanks to Principal Howe and the teachers for all your great work. Go Mustangs!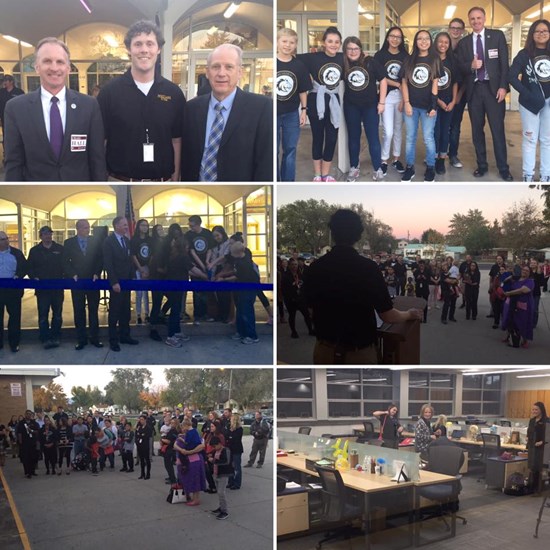 ---
Tuesday, October 11, 2016 9:00 AM